Back On It
Just a quick early season update for you............As I'm starting to write this, I'm just thinking about a young man, Dan Wilkinson, from Shaw Lane, who tragically passed away the other night whilst playing the game we all love so much.  This is another young man leaving us too early.  Our thoughts and wishes go to Dan's family and friends, along with both Shaw Lane and Brighouse Town Football Clubs, who along with the paramedics who attended, did everything they could to prevent this horrendous outcome.  RIP.
It's been a really busy last few months, with the completion of my FA Coach Mentor year with my allocated clubs, Greetland Goldstars and Springhead Juniors.  I'd like to thank John King and all the crew at Greetland, as well as Dave Donlan and Wayne Thomas at Springhead.  The support and welcome I received from everyone at both those well run clubs was second to none!!  I start again in a couple of weeks with my new clubs, Rastrick and Morley Glen.  I've already spoken to my contacts and, if the enthusiasm I felt in both initial conversations with my new clubs is anything to go by, I think another great year is to come.  It is an absolute honour and a pleasure to be involved with this programme and I really feel that the outcomes from this now proven concept is having and will have in the future a massive impact on how grass roots coaching can develop all our players. 
I also really enjoyed being selected as Lead Coach for the West Riding County's England Disability Talent ID programme, which saw two of our recruited players selected for fast track into the England Training Camp.  Well done to Hashim and Jamie!!
After the relocation of our Pathway2Pro Academy.  We've now developed a great relationship with Ossett Albion as hosts, and we've also launched an elite Girls' Development Centre on Mondays and Fridays.  More details to follow really soon on that.  Pathway2Pro is moving forward at a pace and things are happening every week.  OurP2P lads take on Guiseley, away at Ilkley's ground this morning and it will be great to see how our lads are improving and learning about the game.  It's been frustrating in summer, whilst getting the lads settled with college etc., so to have a few friendlies against these u21s development teams has been welcome.  It has also been a pleasure to have ex Premier League player and Leeds Utd. and Rotherham Manager Neil Redfearn providing some guest coaching sessions at P2P.  Always learn something different from these guys that have been there and done it!!  We'll have some news shortly about some other events coming up, even one that involves a Guinness World Record holder!!  
Best Job in the World!!
Cheers,     Mark.
Girls/Women's Development Centre
Ages:
14 years to Open Age
Coaching Evenings:
Mondays and Fridays 7pm to 9pm
Cost:
£45 per month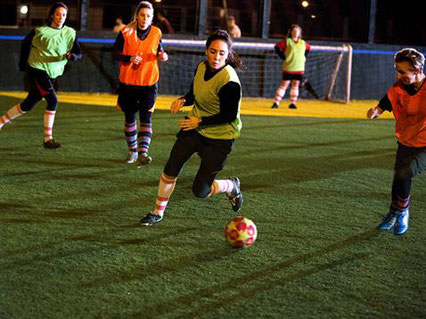 Location
Ossett Albion FC
Queens Terrace
Dimplewells
Ossett
WF5 8JT
Email: mark@soccer-elite.co.uk
Telephone: 07968 208290
Latest Pics